Wednesday, March 28, 2007
Sim 12: Who uploaded?
Seattle
Saskatoon
Hickory
Houston
River Cities.

Scheduling Note: Due to the Passover holiday, the next sim will be Thursday night, April 5.

Zev

Sunday, March 25, 2007
Away for a trip.
I'm on travel to Europe April 5 - 15. It would truly suck if the playoffs occurred then.

Thursday, March 22, 2007
Speeding up the off-season
One thing that I think we can all agree on is that the off-season is too long. Just about none of us play the game to sit through endless rounds of amateur drafts, coaching offers and free-agent signings.

So, how can we speed up the off-season. I'm open to just about any and all suggestions. I'd like to have some ideas in place and voted on before we get to the off-season.

Zev

Tuesday, March 20, 2007
Sim 11: Who uploaded?
Seattle
Saskatoon
Houston
Hickory
Danville
River Cities
South Bay

Next sim is next Monday night.

September Call Ups
Well, it's that time of the year again: the pennant races are winding down, your
star player
goes down with an injury, and your rosters expand to 40.
So, who are your September call-ups?
Well, for Brooklyn, the list isn't set yet, but here's who is under consideration for a shot at the show:
Definite call-ups
Aaron Fetty
, 2B. Fetty has posted a great year at Kensington (AAA), batting .297 with 28HR and 107 RBI. At the moment, he is a leading candidate to replace the retiring Juan Melton.
James Ortis
, RP. Ortis is currently in his third minor league season and has made the jump from AA to AAA this year. A third round pick back in 2007, Ortis could wind up in Brooklyn next year.
Xaiver Portillo
, RP. Portillo has been closing for various teams in the Brooklyn minor league system since 2006, having great success at every level that he's pitched at. After logging 35 saves in Flatbush (AA) and Kensington this year, Portillo will get a shot to show the folks in Brooklyn how he can perform on the major league level.
Willis Welliver
, SS. September call-ups are nothing new to Welliver - he's been called up to Brooklyn every September since the league's inception. Originally kept on as an emergency infielder, Brooklyn never found the need to bring him up in mid-season. Yet, Welliver has been brought up and played every September. This year will be no different.
Possible Call-Ups


John Jacobs
, RF. Jacobs is now finishing his second year in the minors. He made the jump from Flatbush to Kensington late this year and is looked at as a possible successor to the retiring Roberto Casarez. While he doesn't have the power that Roberto had, he certainly has the hitting ability, good range in the outfield and a very good arm. Jacobs was Brooklyn's first round pick in 2008.

Einar Gaona
, RP. Originally drafted as a fourth-round pick back in 2005, Gaona has become a pleasant surprise to the front office in Brooklyn. After spending 3 1/2 years in Brighton Beach (A), he quickly moved up the rungs of the minor league ladder, going through Flatbush in about a year and finding himself a breath away from the bigs this year. Gaona has a 3.51 ERA at Kensington this year and has a better than 3:1 K:BB ratio.
Bruce Parker
, 3B. Since the franchise's inception, the Brooklyn fans have bemoaned the team's inability to find a quality third baseman. While the job has been handled well by players such as Jonathan Dillow and Marcus Bond, no one would call them "cream of the crop" players. Well, the Brooklyn fans are hoping that Parker is that "cream of the crop player." Parker is a player who already has major-league quality power, having slammed 34 homers, while hitting .308 at Flatbush. Oh yeah, and did I mention that he also stole 23 bases (out of 26 tries) this year?
So, who are your September call-ups?
Thursday, March 15, 2007
Samuel Contreras, the modern Babe Ruth
Samuel Contreras
has had a heck of a year as the Monarchs closer. He's 5-2 with a 2.33 ERA and has already compiled a career-high 34 saves. He hasn't given up a run since June and, in July and August, has struck out 24 batters in just 18.2 innings. He has been everything the Monarchs expected when they signed him as a free agent this last offseason.
But, he outdid himself on 8/7/09 in a tremendous
game between Seattle and Houston
. The game went into extra innings in a scoreless tie. Sammy came into the game in the top of the eleventh, and pitched a scoreless inning. He then strolled up to the plate as the leadoff batter in the bottom of the frame. Seattle, having suffered three injuries just two days earlier, was playing with a shorthanded roster. Contreras took his cuts in the on deck circle, came to the plate and promptly worked a 2-1 count. He then pounced on the next pitch, a hanging curveball by Armadillo pitcher Christopher Gormley. Contreras drove it high and deep and "Out Of The Park." He rounded the bases, mobbed by delerious teammates, as fireworks lit up the sky.
Contreras is now 2 for 2 this season at the plate and sports a tidy 3.500 OPS. That's pretty good in my book. In any case, beware of Sam Contreras when he strides to the plate.
FEAR
him.
Files Uploaded
OK, files are uploaded. Next sim scheduled for next Monday.

Zev

Wednesday, March 14, 2007
Still having FTP problems
Apparently I'm still having problems FTPing from home. I'll bring the files to work and upload them from there tomorrow.

Zev

Sim 10: Who uploaded?
Seattle
Saskatoon
Houston
River Cities
South Bay
Danville

Tuesday, March 13, 2007
Need Another Outlet for Your Inner GM?
I am confident that the SDMB OOTP league will be running smoothly and back on track in no time. I'm also committed to making this league work. So, nothing that follows should be taken as a sign that I'm cutting back here or don't think that this league is working.

That said, I love this game. I love playing OOTP and wonder how I would do with another team. I basically need another outlet. So, Nate and I are starting up a new league. We'll tweak a few of the settings, but it's not going to be too dramatically different. It's still OOTP 6.5 after all. We've got seven players committed so far and we're looking to fill an additional five spots.

So, if you're addicted to this game, interested in getting an expansion team that you can mold to your heart's desire, or just want a chance to complain to a new commissioner, drop either Nate or me an email and we'll hook you up. (Does this mean I'm a dealer now? Oh well.)

Wednesday, March 07, 2007
Tuesday, March 06, 2007
Assistant Commissioner
Mack has written to me twice in the last month or so, correctly (but in a friendly and helpful manner) chiding me for not getting the sims done on time.

It is true that my life has become more hectic over the last year or so, and with added responsibilities on the horizon, I don't honestly see the situation changing all that much. I "sort-of ignored" Mack's first email, kind of hoping that things would change somewhat, but the point has come where I have to face reality -- that reality being that while I love this game and I love running this league, it is not something that I can do alone anymore. Mack has suggested taking on an assistant to help run some of the sims when things are a bit hectic, and it sounds like a good idea.

I don't want to end the league -- as I've said, I'm having too much of a blast doing this (when I get the chance), and I like to think (based on your emails) that you guys are enjoying playing. But it would probably be best for the league if I take on an assistant to help.

That being said, I'm going to ask for volunteers to help with the league. In the end, I will choose one volunteer and ask for ratification of that choice by the other league owners.

So, feel free to volunteer either here or by email - and in addition, as always, feel free to make suggestions that will improve the league.

Zev

Files Uploaded
The files from last night's sim are now uploaded (although the main league page has not been updated).

Zev

Sim done, but files not uploaded
I seem to be having a problem FTPing the league files to the site. I'm going to try again tomorrow.

Zev

Monday, March 05, 2007
Sim 9: Who uploaded?
Seattle
Saskatoon
Houston
Hickory
South Bay
River Cities

Saturday, March 03, 2007
Meet the new charts, same as the old charts
Just playing around with the data...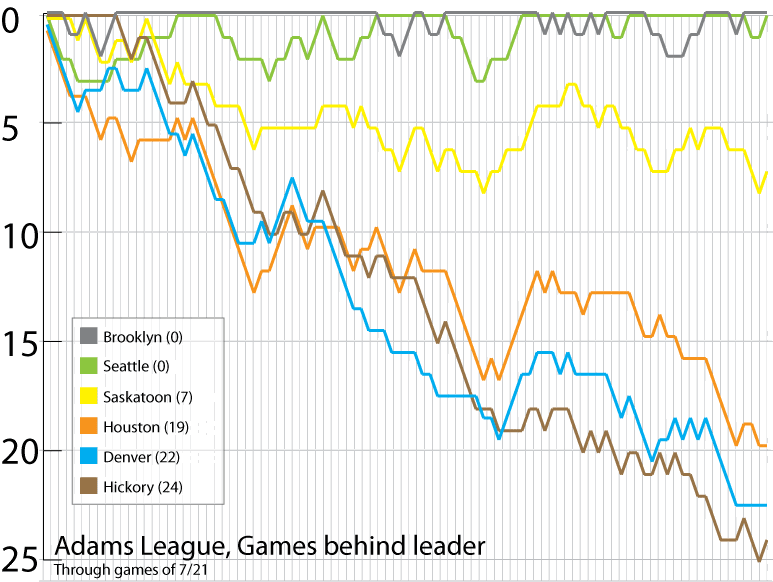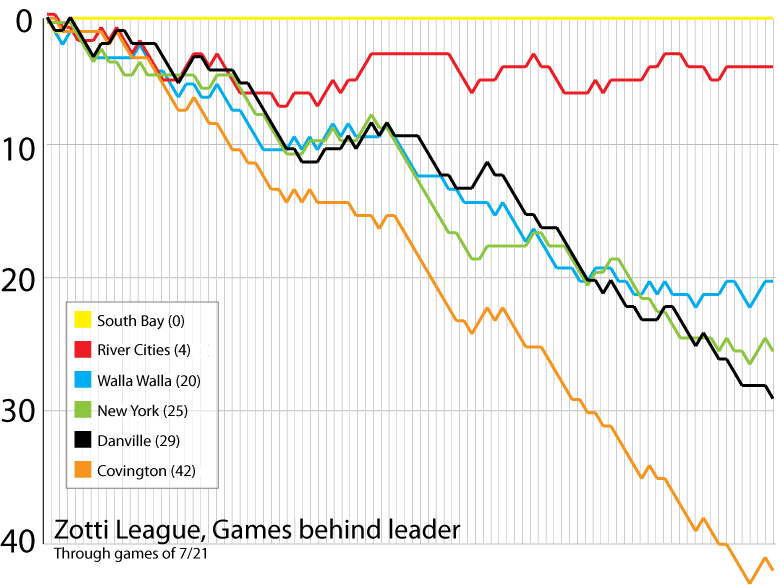 Preferences for the games back style versus the over .500 style? Suggestions for other stuff it might be cool to have a visual of?